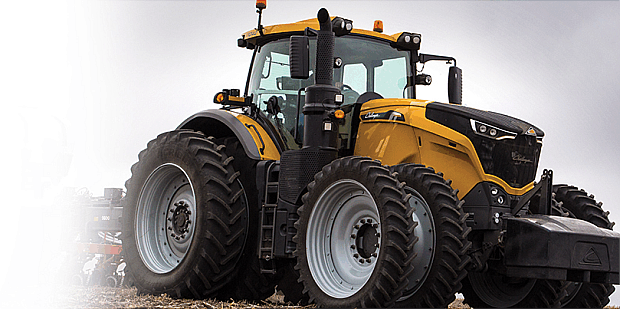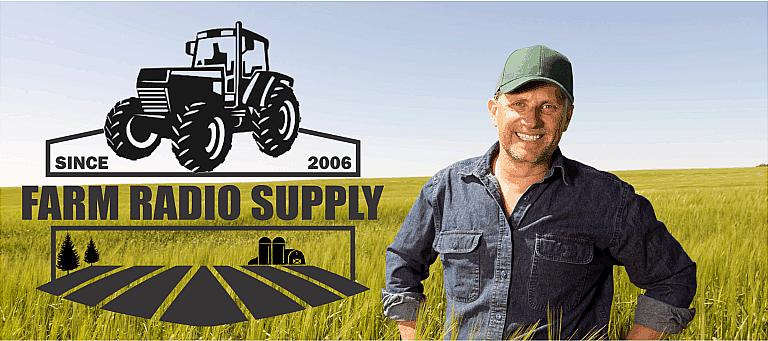 AGCO TRACTOR RADIOS - RADIO HARNESS / SHIPPING TO US & CANADA
HOME TO THE FARM PLUG & PLAY TRACTOR RADIO
866.424.0575
AGCO represents a large group of farm tractors that include Challenger, Fendt, GSI, Massey Ferguson, Valtra, Fella, Fuse Gleaner, Sunflower, and White Planters
FARM RADIO SUPPLY has several harness that work on some but not all the brands represented with AGCO

Begin your search for a radio with a radio choice
Toggle through the 15 ACGO TRACTOR radio models below to select your radio. see NOTE...
NOTE: We make it very easy to fit your tractor with a PLUG & PLAY tractor radio if available. Not all are. To give you this feature we will need your tractor MAKE, MODEL and YEAR as best you can determine. If the harness is available it will come with the radio ready to plug in. Some older models have been discontinued and you will have to hardwire the radio. To help ID your harness we offer you a fast and easy way to text a picture of the tractor side harness that we need to fit. The mobile text number is 336 528 9198 or select the "icon" top right for TEXTME. You can always call 866.424.0575 and our tech will assist you.
Gleaner Combines
Hesston
Hesston 9635 SP Windrower
Other Hesston Windrowers (All radios fit except 701189, 701193, JHD1130WP, CSS 6020E) All applications will have to be hardwired.
Massey Ferguson Swathers
220 Series II (Only 701193, 701189, JHD1130WP, CSS 6020E) Needs a D6 connector.
2650, 1500, 8560, 300, 1635, 1700, 4600
Massey Ferguson Tractors
400, 500, 533, 543, 563, 573, 583, 593, 596, 4300, 6200, 6700, 8200, 3600, 5400,6400,7400, 8400, 9400 4300 Orchard Cab, 7600, 8600
Spra-Coupe
4460, Melrose
Below is a short list of some of the AGCO Equipment we have harnesses for at this time. If your tractor is on this list, simply type the required info into the above text box when you purchase your AGCO tractor radio like it appears in the list and we can wire the radio correctly. If your tractor is not on this list call us or text me a pic of the harness we need to match.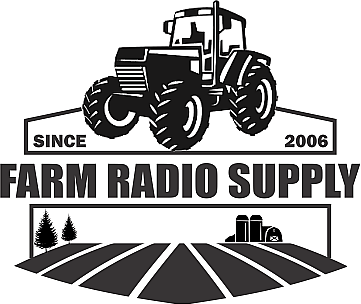 For those installing your own radio we offer a easy pigtail that can be wired to your own radios pigtail and then plug into the tractors radio harness. No worry trying to ID the colors or wires. Just wire our FRISO (comes with matching colors for your radio as well as color IDs for each wire) and you are done. EASY PEESY! Purchase harness below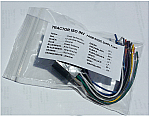 HAVE YOUR OWN RADIO - AGCO RADIO HARNESS
If your AGCO application looks like the one here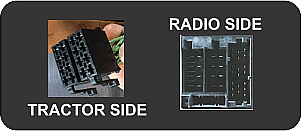 If you have a need for a different AGCO harness, here are the models we have available at this time. Toggle thru our selection and purchase the one you need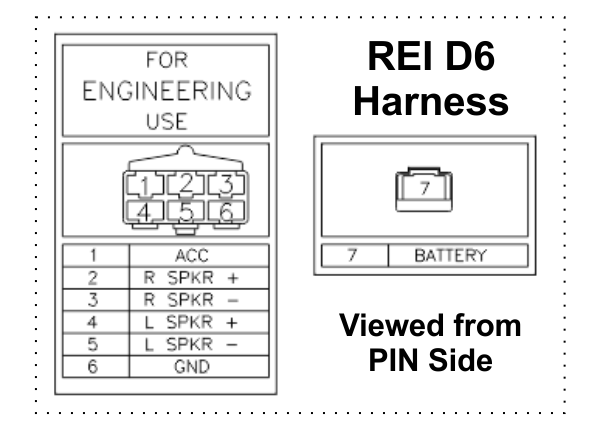 Some harness come with a D6 connector on the radio side. If this is not needed you can cut it off and hardwire it to your radios pigtail. Package includes a pinout schematic for the removed connector so you can ID the correct wire.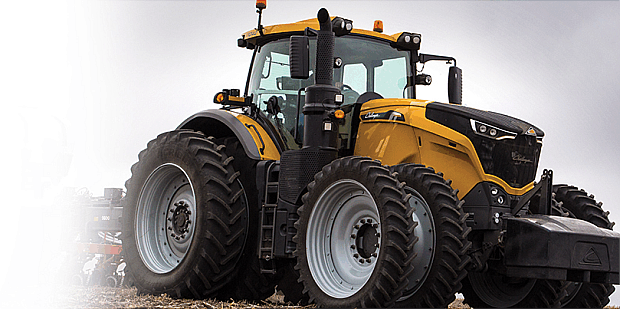 IF YOU JUST NEED A HARNESS
SEE BOTTOM OF PAGE






FEATURES:
Heavy Duty construction for Tough Environments
Non-volatile memory back-up stores user settings when battery is disconnected
30 Day Clock back-up
Output Power 50W x 4
Full Dot Matrix LCD display
10s Anti-skip Gear driven CD Mechanism
7 channel NOAA® Weather Band Tuner
Electronic AM/FM Stereo Tuner
Preset Up to 30 Radio Stations (18 FM, 12 AM)
EURO and USA frequency bands
MP3/WMA playback w/ ID3 Tag Support
2 Aux Inputs (Front 3.5mm Stereo Jack/Rear RCA)
iPod® /iPhone® Charging and Playback Control via USB
Bluetooth® audio Streaming w/ support for Hands Free calling



REI CD 5000









FEATURES:
10s Anti-skip CD Mechanism
Front-panel USB Type-A input
Front-panel SD/SDHC CARD input
Supports MP3/WMA playback
Displays ID3 tag information
50W x 4 Output power
Non-volatile memory back-up stores user Presets when the battery is disconnected
Electronic AM/FM Stereo Tuner w/RBDS
7 channel NOAA® Weather Band Tuner
EURO and USA frequency bands
Radio Station Lock-Out
12/24 hr Clock modes
Presets Up to 30 Radio Stations (18 FM, 12 AM)
Two Independent Aux Inputs (Front 3.5mm Stereo Jack/Rear RCA)
Electronic Bass, Treble, Balance, and Fader Controls
LED Backlighting
REI CD 3000





REI ST 4050


FEATURES
• AM/FM Weather Band Digital Tuner w/ RDS
• Preset up to 30 Radio Stations (18 FM, 12 AM)
• EURO and USA frequency bands
• Front Aux 3.5mm Input
• Rear RCA Aux 2 Input
• USB Support w/ 1.5A Charge Current
• MP3/WMA playback w/ID3 Tag Support
• iPod®/iPhone® Playback Control
• 50W x 4 audio amp
• Selectable Mic input
• White Backlighting
• Line level audio pre-outs
• Clock Memory with EEPROM stored Presets
• ISO Connector
• SAEJ1455 Complian Standard Din short chassis 3in








REI ST 5050
FEATURES:
Heavy Duty construction for Tough Environments
Non-volatile memory back-up stores user settings when battery is disconnected
30 Day Clock back-up
Output Power 50W x 4
Full Dot Matrix LCD display
7 channel NOAA® Weather Band Tuner
Electronic AM/FM Stereo Tuner w/RBDS
Preset Up to 30 Radio Stations (18 FM, 12 AM)
EURO and USA frequency bands
MP3/WMA playback w/ ID3 Tag Support
2 Aux Inputs (Front 3.5mm Stereo Jack/Rear RCA)
iPod® /iPhone® Charging and Playback Control via USB
Bluetooth® audio Streaming w/ support for Hands Free calling
Integrated Bluetooth® Microphone input
Rear Channel Pre-amp outputs


REI ST 1050




FEATURES:
Non-volatile memory back-up
NOAA® Weather Band Receiver
AM/FM Stereo Receiver
Small Compact Chassis
Digital Tune and Seek
Preset Up to 30 Radio Stations (18 FM, 12 AM, 7 WB)
Front Aux Input (3.5mm Stereo jack)
Volume Select Knob
Electronic Bass, Treble, & Balance control
LED Backlighting
Output Power 50W x 2
12/24 volt










FEATURES
12V DC power
Control stereo functions from your smart device with the JENSEN JHD Control app
180 watts max (45W x 4)
Electronic AM/FM tuner (US/Euro)
Audio streaming and controls (A2DP/AVRCP) from Bluetooth-enabled devices
Receives phone calls (HFP) from Bluetooth-enabled phones
SiriusXM-Ready™ (requires separate antenna and subscription)
NOAA seven-channel weatherband with SAME technology
iPod/iPhone ready via front USB
30 sec. Electronic Skip Protection (ESP)
Front and rear AUX input Pre-amp out (RCA) Public Announcement (PA) ready
Full dox matrix LCD with white LED backlighting Amber backlit buttons
Non-volatile memory Low-battery alert (Voltage < 10.8 VDC)
12/24 hr selectable clock with Super-Cap, 30-day power back-up
Conformal coated PCB
IR remote control ready Channel lock RBDS
JHD36A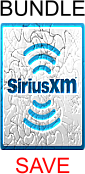 JHD1630






FEATURES
•12V DC power
•Max output power: 45W x 4
•Electronic AM/FM tuner (US/Euro)
•iPod/iPhone ready via USB
•SiriusXM satellite ready (SIRIUS satellite subscription and separate SXV200 tuner required)
•NOAA 7-channel Weatherband with SAME technology
•USB 2.0 for playback of MP3 and WMA audio files •RBDS with PTY search
•Front AUX input •Pre-amp out (RCA) •Public Announcement (PA) ready
•Amber backlighted control panel buttons
•12/24 hour selectable clock with Super-Cap 30 day power backup
•Encoder knob volume control
•Beep tone confirmation (user selectable On/Off)
•EQ presets (Flat, Rock, Pop, Classical, User settings)
•Conformal coated PCB •Preset tuning •Non-volatile memory
•Low battery alert (Voltage < 10.8 VDC)
•Channel lock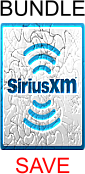 JHD1635BT








FEATURES
•Maximum power output: 180 watts
•12V DC power system (2-wire)
•Electronic AM/FM tuner (US/Euro selectable)
•iPod and iPhone ready via USB •Bluetooth (HFP, AVRCP, A2DP protocols)
•SiriusXM-Ready (SIRIUS satellite subscription and separate SXV300V1 tuner required)
•Full seven-channel NOAA weatherband tuner with S.A.M.E.
•RBDS with PTY search
•Front USB input for playback of MP3 and WMA audio files
•Front and rear AUX input •Auto-store and preset scan
• Public announcement ready (PA)
•Clock, 12/24 hour selectable with alarm
•EQ presets (flat, rock, pop, classical, user settings)
•Full dot matrix LCD with white LED backlighting
•Non-volatile memory for station presets, audio settings and setup menu option settings
•Conformal coated PCB •Low battery alert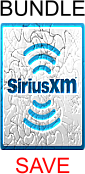 JHD1130

FEATURES
•12V DC power system
•Max power output: 40W x 4
•Electronic AM/FM tuner (US/Euro selectable)
•RBDS with PTY search •NOAA 7-channel Weather Band
•AUX in: front (3.5mm stereo jack)
•10 character segmented display with white LED backlighting
•Amber backlighted control panel buttons
•Preset tuning •Channel lock •Encoder knob volume control
•Beep tone confirmation (user selectable on/off)
•12/24 hour clock with super-cap 30 day power backup
•EQ presets (flat, rock, pop, classical, user settings)
•Non-volatile memory: for station presets, audio settings and setup menu option settings
•Conformal coated PCB •Low battery alert (voltage < 10.8 VDC)



FEATURES
SHORT CHASSIS STEREO
Reduced to less than 3" mounting depth Works great on Excavators
• Waterproof IPX5
• 12V DC power • Max output power: 30W x 4
• Electronic AM/FM tuner (US/Euro)
• RCA Aux input pigtail (ADD JPORTG for easy access.
• NOAA 7-channel Weather band • RBDS with PTY search
• Amber backlighted control panel buttons
• 12/24 hour selectable clock with Super-Cap 30 day power backup
• Beep tone confirmation (user selectable On/Off)
• EQ presets (Flat, Rock, Pop, Classical, User settings)
• Conformal coated PCB • Preset tuning • Non-volatile memory
• Low battery alert (Voltage < 10.8 VDC)
JHD1130WP

CSS 6020E



FEATURES
AM/FM/WB/MP3/USB, 45W x 4, PA ready
Aux input 3.5mm Aux input, front panel of radio.
USB port Front panel (Charging)
Weather Band : 7 Bands : 162.400, 162.425, 162.450,162.475, 162.500, 162.525, 162.550 MHz, Seek, Scan
Spk Wiring Floating GND (No bridge conn. allowed)
Manual Tuning Auto / Manual Dimming
Set Backlighting illumination intensity, Auto Store (A.PS) / Preset Scan
Electronic Volume Control (Rotary Encoder Knob), volume levels are retained, in radio memory.
Electronic Fade/Balance Controls, Electronic Bass/Treble Controls
Volume levels between theses modes, Loudness, Alarm Clock
Mute (Front of Radio), Digital Clock, 12 Hour Clock (Time Default)
Speaker Short Circuit protection to ground, Toggle "T/F" Button
Indicates Time / Frequency on Display
Speaker Impedance (4 - 8 ohms)

CSS 5930BT











FEATURES
AM/FM/MP3/CD/DVD Player
Features: Seek, Manual Tuning, Scan, Auto Store/Preset Scan
Electronic Volume Control(Rotary Encoder Knob), Electronic Fader/Balance Controls
Electronic Bass/Treble Controls, Loudness, Mute (front of Radio)
Display Positive type LCD with Green LED Back Lighting
AUX Input #1 3.5mm Aux input, front panel of radio (use for MP3 or Ipod,Satellite Radio Input)
AUX #2 Input RCA aux Inputs on raer of radio, RCA pre-outs,
ISO-Din Chassis, Operating Voltage: 12 volts DC, Negative Ground
Volume Memory , Tuner & Audio Presets Retained in memory;
Disconnecting power to IGN & Battery lines, radio still
retains tuner & audio presets, Alarm Clock
Digital Clock: 12 Hour Clock (time default)
Euro Mode: 24 Hour Clock (time default), Time/Frequency Selector(T/F)
Mode selector button (DSP,Tuner,CD,Aux input,Euro)
Conformal Coated PCB, 1 Year Warranty, Optional Remote











PIONEER DEH S7200BHS



* CD receiver with AM/FM tuner
* Built-in Bluetooth for hands-free calling and audio streaming
* Built-in HD Radio tuner
*Variable color illumination with separate control of display and buttons
* MIXTRAX for a DJ-inspired audio/visual experience with compatible devices
* Optional remote control
* Compatible with Pioneer's Smart Sync App for multimedia functionality
* Voice control
* Easy access to navigation, music, and messaging apps
* Built in iPod, iPhone, and iPad controls
* Pandora and Spotify control with iPhone and Android
* Music file playback from select Android devices through USB input
* Plays CDs, CD-Rs, and CD-RWs, and USB memory devices
* 13-band equalizer with seven preset tone settings
* 3-level loudness
* Subwoofer level control
* VIDEOS








KENWOOD KDC BT378U



Maximum Output Power : 50W x 4 (MOSFET Power IC)
Front AUX & USB Interface, 1 Preout (2.5V)
Kenwood sound reconstruction, restores musical to compressed music
13 Band Graphic Equalizer, Time Alignment ,Drive EQ
Subwoofer Level Adjustable, Bass Boost, Loudness, Built-in LPF/HPF
MP3, WMA, AAC, WAV, FLAC Decoder with ID-3 Tag Display
iPod/iPhone Direct Connection with Optional cable*1
iPod Skip Search Function, Pandora/iHeart Radio/iTunes Radio/Spotify App Ready (iPhone App)
Drive Change, Android Music Playback, Android Rapid Charge
Backup Memory for Tuner Preset, FM/AM 24 Station Presets (18FM, 6AM)
RBDS with Radio Text, AME (Automatic Memory Entry)
Up/Down Seek Tuning, FM/AM 24 Station Presets (18FM, 6AM), RBDS with Radio Text
Bluetooth Built-in (Hands-Free Profile / A2DP/ AVRCP1.5)
Dual Phone Connection, Wireless Music Browsing
Pandora/iHeart Radio/Spotify App Ready (Android and iPhone App) via Bluetooth
Rear Wired BT Microphone included, Remote App for Android/iPhone
AUDIO STREAMING


JVC KDR 370







FEATURES:
•CD receiver with AM/FM tuner
•built-in MOSFET amplifier (20 watts RMS CEA-2006/50 peak x 4 channels)
Audio features:
•24-bit digital-to-analog converter
•high- and low-pass filters
•3-band parametric equalizer
Expandability:
•inputs: front and rear auxiliary inputs
•outputs: 2-channel preamp outputs (2.5-volt rear/subwoofer)
* MOS-FET 50W x 4 (20W RMS x 4)
* 24-bit DAC
* 3-Band Parametric iEQ
* MP3/WMA Compatible with ID3/WMA Tag (CD)


If you have a need for a different AGCO harness, here are the models we have available at this time. Toggle thru our selection and purchase the one you need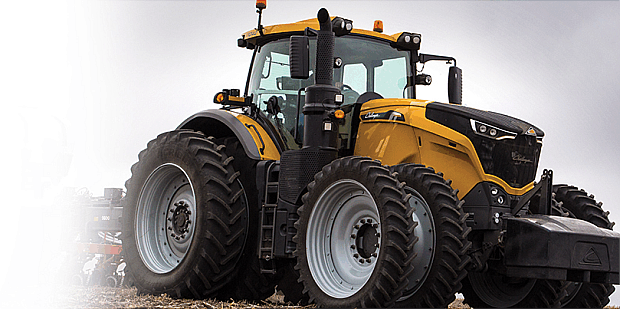 REI CD 5000

FEATURES:
Heavy Duty construction for Tough Environments
Non-volatile memory back-up stores user settings when battery is disconnected
30 Day Clock back-up
Output Power 50W x 4
Full Dot Matrix LCD display
10s Anti-skip Gear driven CD Mechanism
7 channel NOAA® Weather Band Tuner
Electronic AM/FM Stereo Tuner
Preset Up to 30 Radio Stations (18 FM, 12 AM)
EURO and USA frequency bands
MP3/WMA playback w/ ID3 Tag Support
2 Aux Inputs (Front 3.5mm Stereo Jack/Rear RCA)
iPod® /iPhone® Charging and Playback Control via USB
Bluetooth® audio Streaming w/ support for Hands Free calling








FEATURES:
10s Anti-skip CD Mechanism
Front-panel USB Type-A input
Front-panel SD/SDHC CARD input
Supports MP3/WMA playback
Displays ID3 tag information
50W x 4 Output power
Non-volatile memory back-up stores user Presets when the battery is disconnected
Electronic AM/FM Stereo Tuner w/RBDS
7 channel NOAA® Weather Band Tuner
EURO and USA frequency bands
Radio Station Lock-Out
12/24 hr Clock modes
Presets Up to 30 Radio Stations (18 FM, 12 AM)
Two Independent Aux Inputs (Front 3.5mm Stereo Jack/Rear RCA)
Electronic Bass, Treble, Balance, and Fader Controls
LED Backlighting
REI CD 3000





REI ST 4050


FEATURES
• AM/FM Weather Band Digital Tuner w/ RDS
• Preset up to 30 Radio Stations (18 FM, 12 AM)
• EURO and USA frequency bands
• Front Aux 3.5mm Input
• Rear RCA Aux 2 Input
• USB Support w/ 1.5A Charge Current
• MP3/WMA playback w/ID3 Tag Support
• iPod®/iPhone® Playback Control
• 50W x 4 audio amp
• Selectable Mic input
• White Backlighting
• Line level audio pre-outs
• Clock Memory with EEPROM stored Presets
• ISO Connector
• SAEJ1455 Complian Standard Din short chassis 3in








REI ST 5050
FEATURES:
Heavy Duty construction for Tough Environments
Non-volatile memory back-up stores user settings when battery is disconnected
30 Day Clock back-up
Output Power 50W x 4
Full Dot Matrix LCD display
7 channel NOAA® Weather Band Tuner
Electronic AM/FM Stereo Tuner w/RBDS
Preset Up to 30 Radio Stations (18 FM, 12 AM)
EURO and USA frequency bands
MP3/WMA playback w/ ID3 Tag Support
2 Aux Inputs (Front 3.5mm Stereo Jack/Rear RCA)
iPod® /iPhone® Charging and Playback Control via USB
Bluetooth® audio Streaming w/ support for Hands Free calling
Integrated Bluetooth® Microphone input
Rear Channel Pre-amp outputs


REI ST 1050




FEATURES:
Non-volatile memory back-up
NOAA® Weather Band Receiver
AM/FM Stereo Receiver
Small Compact Chassis
Digital Tune and Seek
Preset Up to 30 Radio Stations (18 FM, 12 AM, 7 WB)
Front Aux Input (3.5mm Stereo jack)
Volume Select Knob
Electronic Bass, Treble, & Balance control
LED Backlighting
Output Power 50W x 2










FEATURES
12V DC power
Control stereo functions from your smart device with the JENSEN JHD Control app
180 watts max (45W x 4)
Electronic AM/FM tuner (US/Euro)
Audio streaming and controls (A2DP/AVRCP) from Bluetooth-enabled devices
Receives phone calls (HFP) from Bluetooth-enabled phones
SiriusXM-Ready™ (requires separate antenna and subscription)
NOAA seven-channel weatherband with SAME technology
iPod/iPhone ready via front USB
30 sec. Electronic Skip Protection (ESP)
Front and rear AUX input Pre-amp out (RCA) Public Announcement (PA) ready
Full dox matrix LCD with white LED backlighting Amber backlit buttons
Non-volatile memory Low-battery alert (Voltage < 10.8 VDC)
12/24 hr selectable clock with Super-Cap, 30-day power back-up
Conformal coated PCB
IR remote control ready Channel lock RBDS
JHD36A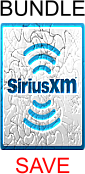 JHD1630






FEATURES
•12V DC power
•Max output power: 45W x 4
•Electronic AM/FM tuner (US/Euro)
•iPod/iPhone ready via USB
•SiriusXM satellite ready (SIRIUS satellite subscription and separate SXV200 tuner required)
•NOAA 7-channel Weatherband with SAME technology
•USB 2.0 for playback of MP3 and WMA audio files •RBDS with PTY search
•Front AUX input •Pre-amp out (RCA) •Public Announcement (PA) ready
•Amber backlighted control panel buttons
•12/24 hour selectable clock with Super-Cap 30 day power backup
•Encoder knob volume control
•Beep tone confirmation (user selectable On/Off)
•EQ presets (Flat, Rock, Pop, Classical, User settings)
•Conformal coated PCB •Preset tuning •Non-volatile memory
•Low battery alert (Voltage < 10.8 VDC)
•IR remote ready (remote sold separately) REMJHD10CC •Channel lock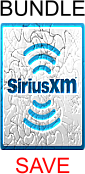 JHD1635








FEATURES
•Maximum power output: 180 watts
•12V DC power system (2-wire)
•Electronic AM/FM tuner (US/Euro selectable)
•iPod and iPhone ready via USB •Bluetooth (HFP, AVRCP, A2DP protocols)
•SiriusXM-Ready (SIRIUS satellite subscription and separate SXV300V1 tuner required)
•Full seven-channel NOAA weatherband tuner with S.A.M.E.
•RBDS with PTY search
•Front USB input for playback of MP3 and WMA audio files
•Front and rear AUX input •Auto-store and preset scan
• Public announcement ready (PA)
•Clock, 12/24 hour selectable with alarm
•EQ presets (flat, rock, pop, classical, user settings)
•Full dot matrix LCD with white LED backlighting
•Non-volatile memory for station presets, audio settings and setup menu option settings
•Conformal coated PCB •Low battery alert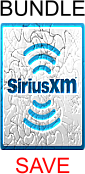 FEATURES
•12V DC power system
•Max power output: 40W x 4
•Electronic AM/FM tuner (US/Euro selectable)
•RBDS with PTY search •NOAA 7-channel Weather Band
•AUX in: front (3.5mm stereo jack)
•10 character segmented display with white LED backlighting
•Amber backlighted control panel buttons
•Preset tuning •Channel lock •Encoder knob volume control
•Beep tone confirmation (user selectable on/off)
•12/24 hour clock with super-cap 30 day power backup
•EQ presets (flat, rock, pop, classical, user settings)
•Non-volatile memory: for station presets, audio settings and setup menu option settings
•Conformal coated PCB •Low battery alert (voltage < 10.8 VDC)
•IR remote ready (remote sold separately)
JHD1130


FEATURES
SHORT CHASSIS STEREO
Reduced to less than 3" mounting depth Works great on Excavators
• Waterproof IPX5
• 12V DC power • Max output power: 30W x 4
• Electronic AM/FM tuner (US/Euro)
• RCA Aux input pigtail (ADD JPORTG for easy access.
• NOAA 7-channel Weather band • RBDS with PTY search
• Amber backlighted control panel buttons
• 12/24 hour selectable clock with Super-Cap 30 day power backup
• Beep tone confirmation (user selectable On/Off)
• EQ presets (Flat, Rock, Pop, Classical, User settings)
• Conformal coated PCB • Preset tuning • Non-volatile memory
• Low battery alert (Voltage < 10.8 VDC)
• IR remote ready (remote sold separately) REMJHD10CC
• Channel lock
JHD1130WP

CSS 6020E



FEATURES
AM/FM/WB/MP3/USB, 45W x 4, PA ready
Aux input 3.5mm Aux input, front panel of radio.
USB port Front panel (Charging)
Weather Band : 7 Bands : 162.400, 162.425, 162.450,162.475, 162.500, 162.525, 162.550 MHz, Seek, Scan
Spk Wiring Floating GND (No bridge conn. allowed)
Manual Tuning Auto / Manual Dimming
Set Backlighting illumination intensity, Auto Store (A.PS) / Preset Scan
Electronic Volume Control (Rotary Encoder Knob), volume levels are retained, in radio memory.
Electronic Fade/Balance Controls, Electronic Bass/Treble Controls
Volume levels between theses modes, Loudness, Alarm Clock
Mute (Front of Radio), Digital Clock, 12 Hour Clock (Time Default)
Speaker Short Circuit protection to ground, Toggle "T/F" Button
Indicates Time / Frequency on Display
Speaker Impedance (4 - 8 ohms)

CSS 5930BT










FEATURES
AM/FM/MP3/CD/DVD Player
Features: Seek, Manual Tuning, Scan, Auto Store/Preset Scan
Electronic Volume Control(Rotary Encoder Knob), Electronic Fader/Balance Controls
Electronic Bass/Treble Controls, Loudness, Mute (front of Radio)
Display Positive type LCD with Green LED Back Lighting
AUX Input #1 3.5mm Aux input, front panel of radio (use for MP3 or Ipod,Satellite Radio Input)
AUX #2 Input RCA aux Inputs on raer of radio, RCA pre-outs,
ISO-Din Chassis, Operating Voltage: 12 volts DC, Negative Ground
Volume Memory , Tuner & Audio Presets Retained in memory;
Disconnecting power to IGN & Battery lines, radio still
retains tuner & audio presets, Alarm Clock
Digital Clock: 12 Hour Clock (time default)
Euro Mode: 24 Hour Clock (time default), Time/Frequency Selector(T/F)
Mode selector button (DSP,Tuner,CD,Aux input,Euro)
Conformal Coated PCB, 1 Year Warranty, Optional Remote














PIONEER DEH S7200BHS
* CD receiver with AM/FM tuner
* Built-in Bluetooth for hands-free calling and audio streaming
* Built-in HD Radio tuner
*Variable color illumination with separate control of display and buttons
* MIXTRAX for a DJ-inspired audio/visual experience with compatible devices
* Optional remote control
* Compatible with Pioneer's Smart Sync App for multimedia functionality
* Voice control
* Easy access to navigation, music, and messaging apps
* Built in iPod, iPhone, and iPad controls
* Pandora and Spotify control with iPhone and Android
* Music file playback from select Android devices through USB input
* Plays CDs, CD-Rs, and CD-RWs, and USB memory devices
* 13-band equalizer with seven preset tone settings
* 3-level loudness
* Subwoofer level control
* VIDEOS









Maximum Output Power : 50W x 4 (MOSFET Power IC)
Front AUX & USB Interface, 1 Preout (2.5V)
Kenwood sound reconstruction, restores musical to compressed music
13 Band Graphic Equalizer, Time Alignment ,Drive EQ
Subwoofer Level Adjustable, Bass Boost, Loudness, Built-in LPF/HPF
MP3, WMA, AAC, WAV, FLAC Decoder with ID-3 Tag Display
iPod/iPhone Direct Connection with Optional cable*1
iPod Skip Search Function, Pandora/iHeart Radio/iTunes Radio/Spotify App Ready (iPhone App)
Drive Change, Android Music Playback, Android Rapid Charge
Backup Memory for Tuner Preset, FM/AM 24 Station Presets (18FM, 6AM)
RBDS with Radio Text, AME (Automatic Memory Entry)
Up/Down Seek Tuning, FM/AM 24 Station Presets (18FM, 6AM), RBDS with Radio Text
Bluetooth Built-in (Hands-Free Profile / A2DP/ AVRCP1.5)
Dual Phone Connection, Wireless Music Browsing
Pandora/iHeart Radio/Spotify App Ready (Android and iPhone App) via Bluetooth
Rear Wired BT Microphone included, Remote App for Android/iPhone
AUDIO STREAMING
KENWOOD KDC BT378U



JVC KDR 370







FEATURES:
•CD receiver with AM/FM tuner
•built-in MOSFET amplifier (20 watts RMS CEA-2006/50 peak x 4 channels)
Audio features:
•24-bit digital-to-analog converter
•high- and low-pass filters
•3-band parametric equalizer
Expandability:
•inputs: front and rear auxiliary inputs
•outputs: 2-channel preamp outputs (2.5-volt rear/subwoofer)
* MOS-FET 50W x 4 (20W RMS x 4)
* 24-bit DAC
* 3-Band Parametric iEQ
* MP3/WMA Compatible with ID3/WMA Tag (CD)