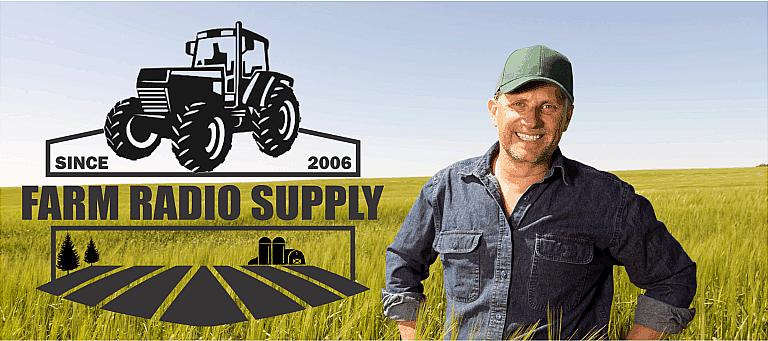 EXCLUSIVE PRODUCTS FROM FARM RADIO SUPPLY
866.424.0575
FRS sells products from several manufactures. For the most part they fill the wants and needs of our customers. But sometimes the demand is not justifiable enough for manufacture to design and build them. This is where our inhouse team designs and manufactures its own part made for FRS only. You want find it anywhere else.

Our customers wanted a smaller self contained housing with a simple AM/FM radio
Small footprint 10" x 4" x 9". Housing a set of 4" REI heavy duty speakers. Speakers are covered with metal screens for protection.
Radio is the REI 701193 or 701189D6 model. Features AM/FM/WB with 3.5mm AUX on face. Sound is loud enough to hear above most equipment noise at 50 watts. Radio features digital tuning with 18 FM presets & 12 AM presents. Weights in at less than 3 lbs. 210066 REI antenna included.
Housing is made of rugged ABS plastic. Access by removing ABS top screw mounted cover. Can be mounted to roof or side wall of your equipment. Antenna requires a 3/16 hole and access to the inside of the material it is mounted to. 2 wire power hookup required. Pigtail furnished for power and antenna.

REI CUSTOM
ROOFMOUNT / SIDE MOUNT Radio Kit

$229.99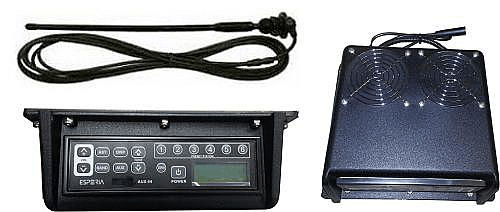 Also available is the HD99C exclusive to FRS is the AM/FM 24V version. Housed in the same ABS housing using the same speakers and antenna. The HD 99C version features a AM/FM radio with a 3.5mm AUX on the face. No weather band. HD 99C will also work in a 12V application. Smart auto switching insures it works on any 12 volt or 24 volt machine in case you are not sure about the voltage.
Our customers wanted a smaller self contained housing with a simple AM/FM radio that works on 24 volt applications without a inverter.
CUSTOM HD99C 24V
ROOFMOUNT / SIDE MOUNT Radio Kit

$285.99

Our customers wanted a full size overhead that sounds loud enough to get over the noisy equipment it is mounted on. Available with the HD 99C 12/24V radio. Dimensions 21 3/4" x 2 3/4" x 9" Made from rugged ABS plastic. Extra wide flange makes mounting easy. Top is open allowing easy access to equipment. Onboard REI 5" heavy duty speakers.
HD99C 24V OVERHEAD
ROOFMOUNT Radio Kit

$295.99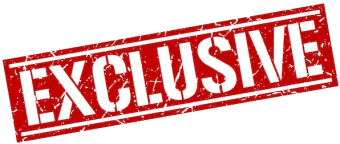 Add Bluetooth to your OEM factory tractor radio. A easy way to update your farm tractor to answer and work your smart phone calls hands free. Hear your caller better thru the tractors speakers. Connection over rides the radio station so you want miss calls when jamming to your music. Easy connection on most 2009 and up tractor models. Connection works with a ISO style connector. Call us and we can check to see if your tractor has this connection or remove the radio for yourself. "Its like hiring a extra set of hands".

PARR 30 Works on most of the radios sold on FRS as well if the model does not come Bluetooth already.
PARR 30
BLUETOOTH HANDS FREE ADD-ON

$149.99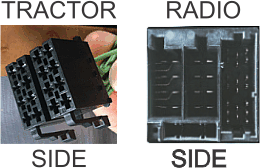 If your tractor harness looks like this the install will be a PLUG & PLAY install
Our customers have asked for these items and we felt it was do-able so here they are. All products carry a year warranty and are build to stand the everyday abuse that is present to your trade. We have sold most of these items for several years now. We wanted to create a page for them because they are now a part of our every day line of products. And also we like bragging when we hit a home run.
This page was added to expose you to several products that are exclusive to our site only. Built from requests from its own customer base. Worth a second look or maybe a first. For that purpose FRS has created this page to highlight them. Take a look and maybe you will see as we do they are unique. You can purchase them here only on FARM RADIO SUPPLY. Check back often we will be adding new ones as requested and built. Also take a look at the section we call
That Just Makes Sense