Heavy Duty Radio, Tractor Radio, Farm Equipment Radio, John Deere Radio,


Agco / Bobcat / Case / John Deere / Kubota / Macdon / New Holland and more
Quality electronics for agricultural equipment

Radio Engineering Industries, Inc. is a vertically integrated manufacturing corporation located in Omaha, Nebraska. For the past sixty-five years, we have made quality, service and value our primary objectives by providing products and services designed with our customers in mind.
What began as an automobile radio service center in 1938, REI now offers an extensive line of quality commercial electronics for thousands of manufacturers, suppliers and operators in the transportation and agriculture industries. Our Audio/Video Entertainment Systems, Surveillance Systems, Radios and Accessories are all made of durable, industrial quality components. We supply quality products to customers throughout the United States, Mexico, Canada and South America, with international business rapidly expanding in Europe and Australia.
Operating from a facility of more than 185,000 square feet, REI's full range of electronic manufacturing includes research and development, metal fabrication, printed circuit board manufacturing, automatic insertion equipment for populating circuit boards and electronic assembly. State of the art technology is incorporated into all phases of production, from initial conception and design to shipping the finished product. The entire manufacturing operation is governed by International ISO-9001 Quality Standards, ensuring only the highest quality products for our customers, and we stand behind our products long after they are purchased.
Extensive experience developing commercial mobile electronics, combined with our diversified manufacturing capabilities, provide for products that specifically meet the ever-changing needs of our customers.
Founded in 1938, Radio Engineering Industries, Inc. continues to grow because of the loyal customer base that has been established and by keeping "Customer Service and Satisfaction" as our primary objective.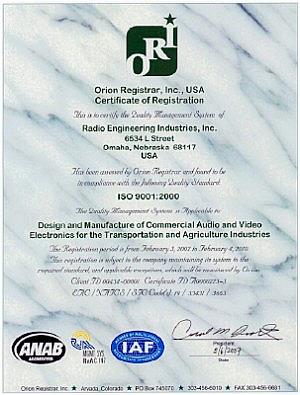 ISO 9001:2000 Certificate of Registration
We supply the US and Canadian Farmer with Tractor Radios, Communication, Back-up Camera Systems
The No.1 Site on the Internet for Tractor Radios and Speakers & Communication
FRS has farm tractor radios that plug directly into Case / lH tractor, John Deere, New Holland, McCormick, Macdon, Kubota and Landini Models

Toll Free Orders 1-866-424-0575
Providing quality Commercial Electronics to the Farm Community